The Wellbeing Stories are aimed at the 9-13 age group and each deals with a relevant issue in their lives. Based on resilience research and combining positive and narrative psychology,  the wellbeing stories offer teachers and parents an opportunity to raise issues with young people in a safe and fun way.  They show that some ways of thinking are helpful and others get in the way of wellbeing.
Irfan and the If-Only Elf deals with the dangers of perfection.  We cannot all be first, best and top and should not have to feel badly about ourselves when we try hard but don't make it. Although it is good to aim high, mistakes are part of being human and everyone makes them from time to time. In fact, unless we know that it is OK to make a mistake we will never take risks or try something new. People need support when things go wrong, not blame and condemnation.  This story is also about the impact that family conversations can have on wellbeing. The Mousa family are aspirational – they want their children to do well. There is nothing wrong with that but trying to be perfect or wanting other people to be can be a problem.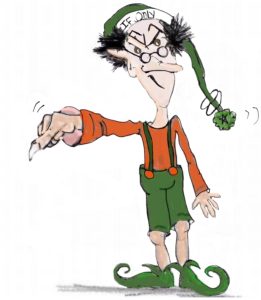 In this story, the whole family have high expectations of each other, but this starts to get out of hand when the If-Only Elf moves in. This is the inner voice that says what should have happened after the event. This of course is useless and does nothing but make people feel blamed, guilty and hopeless. The If-Only Elf encourages people in the Mousa family to condemn each other every time things don't go right. This way of interacting leads to an atmosphere of irritability and bad humour. The negative inner voice takes this to a new level where nothing seems to be good enough. Criticism and blame is how family members begin to relate to each other. "If only you had done this" – "If only you had done that".
As this inner voice holds sway with the Mousa family the atmosphere in Irfan's home becomes miserable. Everyone feels under pressure, bad-tempered, irritable, guilty or despondent.
It is a feather in the family cap when Irfan is chosen to be on the team for the spelling competition. He is willing to practice hard – though not all the time.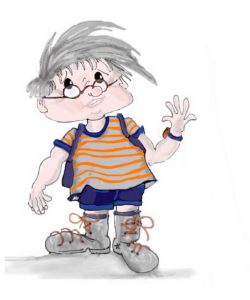 The positive voice in this story is Common Sense. She presents an alternative way of seeing things and helps us stay calm.  Her strength is that she sticks to the evidence – what is real.  Common Sense offers both a kinder and more balanced way of being but is often shouted down by the negative inner voices who can be louder and more insistent. Common Sense tells Irfan that he needs to be both physically and socially active from time to time in order for his brain to work best. When faced with a calm and rational argument his mum agrees.
When Irfan's team does not win the competition, the immediate response is great disappointment and the If Only Elf has a field day! The negativity of his family has a powerful impact on Irfan. He had tried really hard and now feels he has let everyone down.
It takes some fierce anger from Selina to get everyone to take a different approach. Irfan was not a loser – he was a star who didn't come out top! Her passionate plea to the family to be more responsive to how well the team did to come second eventually helps them to see sense. They follow Selina's example and at last show at last how proud they are of Irfan. The voice of the If-Only Elf is shrunk to insignificance as Common Sense comes to the fore.